You will be required to fill in a medical questionnaire upon registering. This is for your own health and safety and ensures we know you are fit to participate whether in the studio or online. 
Burn360 – We have fun with all the functional training equipment. Battle ropes, Plyo boxes, Tyre, the rig, Kettlebells, Barbells, Medicine balls, sand bags to hit every muscle group and body system.
Box360 – We've combined HIIT, Strength & Combat to create the ultimate jam packed workout that is guaranteed to torch your metabolism and burn those calories. This workout is guaranteed to have those calories burning, long after your workout is complete. Not only will you be pushed to test your strength & endurance, but will also relieve stress through fun boxing combo's. You will be required to bring your own boxing gloves for hygiene reasons. 
Lift360 – The ideal workout for anyone looking to get lean, toned and fit – FAST! Class uses barbells and dumbbells for the ultimate resistance workout. 

HIIT N Tone

 – Hard hitting calorie burning body weight class. Pure cardio and body weight strength work.
AeroFIT – A combination of tradition dance aerobics with toning exercises to some banging tunes.
Pick A Mix – Who knows what this class could be. Every week a different exercise discipline to keep you on your toes. 
Totally Shredded -I

ncorporates combat & HIIT (High Intensity Interval Training ). It has shown to reduce body composition by shredding inches from the body. It also has strength & conditioning properties, cardio vascular benefits & metabolic boosting advantages.

The class is designed & developed for any fitness level & we believe that combining the music & atmosphere will leave you exhillirated & wanting more. This addiction is real.

Pure ride – Does what is says on the tin. Pure ride. Indoor cycling at its best. We want you to have fun on the bike.

Band power – Awesome total body conditioning classes using power bands and hooped bands. Each muscle will be precisely targeted to get the best out of it and strength through the whole range of the movement.
HIIT N Step – HIIT class using the step to get the heart pumping and legs burning.
Barre – Barre delivers a full body workout, but it's great for strengthening your core and toning your glutes and legs. Barre workouts are also a good cross-training option to pair with other exercise like running, weight lifting or cycling, because they strengthen the muscles needed for these exercises without being too stressful on the body. Barre class is a workout technique inspired by elements of ballet, yoga, and Pilates. It focuses on low-impact, high-intensity movements designed to strengthen your body in ways that few other workouts can.
Barre Fusion – No longer is barre just a "leg and glute workout", this class is designed to get you moving, sweating and every muscle burning. A flowing class incorporating a variety of props and specially designed exercises created to target your whole body. Be prepared to have fun and to work hard. 
Pilates -Pilates is a method of exercise that consists of low-impact flexibility and muscular strength and endurance movements. Pilates emphasizes proper postural alignment, core strength and muscle balance. 
Pilates fusion – A challenging and dynamic pilates workout incorporating elements of functional fitness and light cardio whilst still staying true to the core principles of pilates. This class helps you build tone, strength and stamina fast. A perfect workout for those who like to be pushed and are comfortable with the basic pilates repertoire – although exercises can be modified to suit all levels.
k08 & Bells – This class incorporates the K08 and Kettlebells. The K08 is the most functional exercise system you will ever use and allows you to target your full body whilst building strength and endurance, torching body fat and improving mobility. 
Strengthening Yoga –

Strengthening yoga is a high-energy and uplifting yoga class which will be based around traditional yoga postures to help gain strength and build comfortability in these positions. The upbeat music creates a fun atmosphere to get your stretching, mobility and strength training all-in-one, could that be any better? 

Expect elements of yoga, mobility, strength & cardio. Open to all levels.

GPT – Group personal training
Need something more personalised with more accountability to a trainer?
Register for our 6 weeks program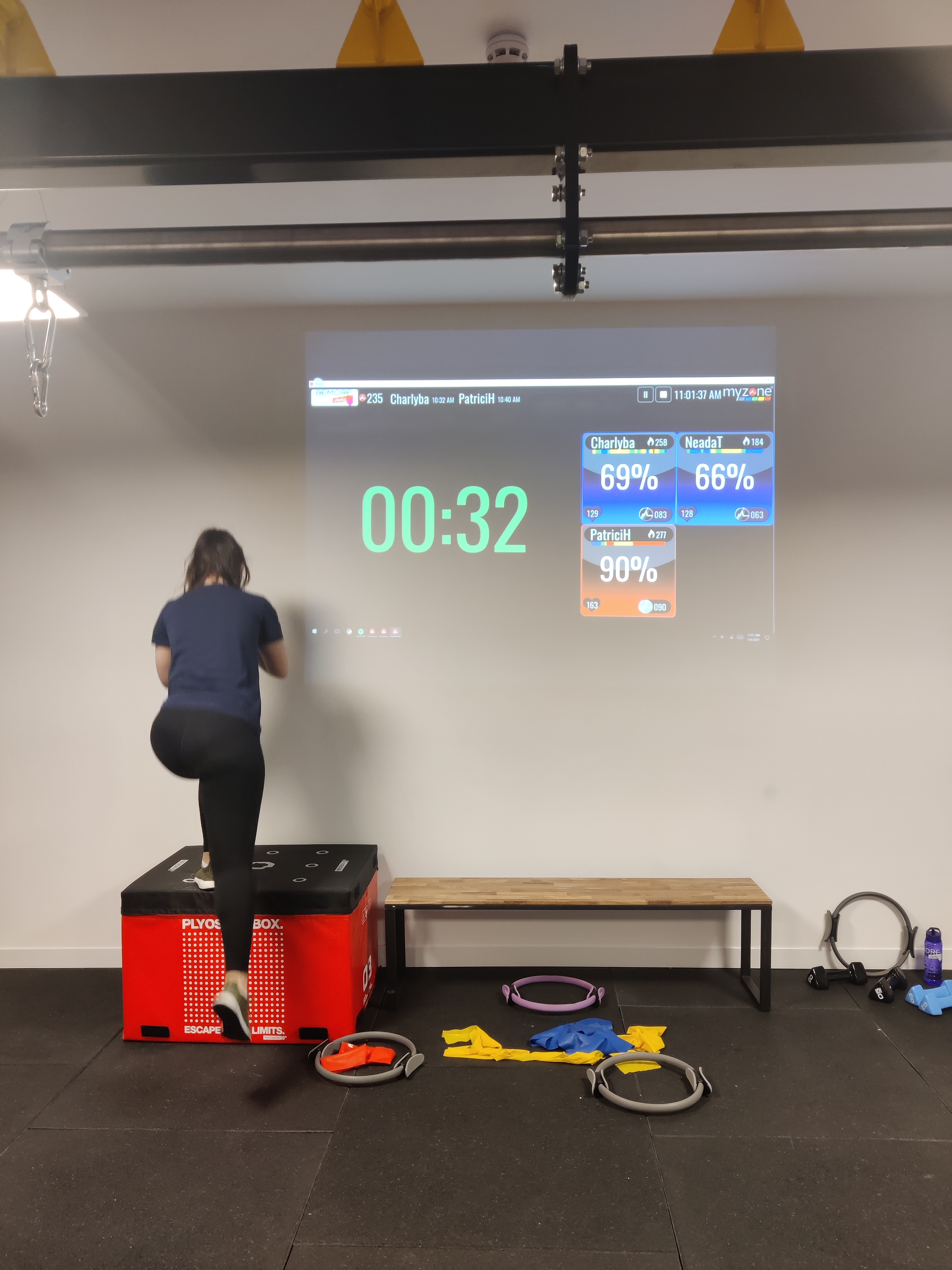 We use Myzone software in our Burn360, HIIT360, Indoor cycling and strength training sessions. It is not compulsory to have a monitor but it is recommended so you can make the most of your session.. Bemore clients get a whopping £60 off RRP. Go to our shop in the fitness hub..